DMV Driver License Test: A Comprehensive Guide to Pass
Do you know the fact that over 30% of US citizens fail their DMV test the first time they take it? Yes, it's not easy as it seems. It's the reason why in this article, we are going to give you comprehensive information on DMV Driver License Test Guide as well as obtain the license successfully with a high score. Let's get started!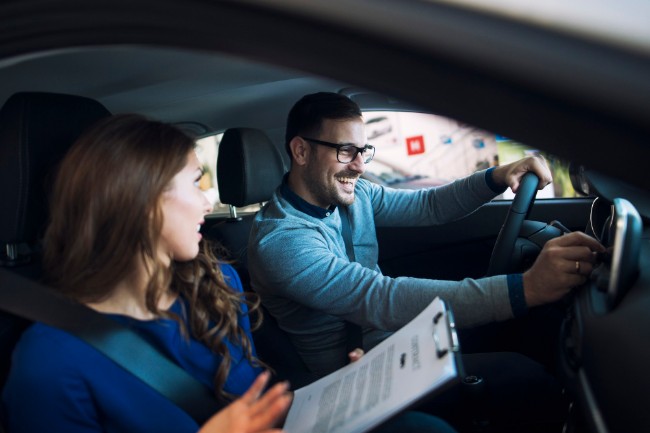 1. What is a DMV driver's license?
The government department in charge of vehicle and driver licensing and registration is known as the Department of Motor Vehicles (DMV). DMVs are state-run entities in the United States. While each state's DMV is responsible for a different set of tasks, most DMVs are in charge of handling the state's motor voter registration programs, issuing driver's licenses, and processing vehicle title transfers. In brief, if you want to drive your car legally within the US, you must obtain a DMV driver's license.
The DMV US licenses can be categorized by:
Commercial Driver's License (CDL): class A, B, C
Driver License (DL): Class D
Motorcycle Driver's License: Class M
In this article, we are going to dig deep into the Driver's License and how to get one.
>> Read more: CDL Study Guide
2. How to obtain a DMV Driver's License?
In order to get a DMV driver license, there are two required tests that all 51 states and citizens must take. Find out more below:
2.1. The Written Exam
The DMV Written Test, also known as the knowledge test, is a computerized examination that is based on your state's DMV handbook. Many states will need you to pass this exam before you can take your driving test. Even if you hold a foreign license, you may be needed to take the written exam to ensure you understand US driving practices and rules.
Although learning new driving regulations and conventions might be daunting, newcomers have several tools available to them, including our practice examinations. Most drivers only need to pass the written exam once during their driving careers. Read the DMV Written Test Study Guide to get more information as well as score high.
2.2. The Road Test
The road test or DMV Driving Test will place you in the driver's seat, with an assessor in the passenger seat. It is designed to measure your ability to drive safely and observe state driving rules. The test is usually conducted in the parking lot and on the streets surrounding the DMV headquarters.
Before being given a license, all states in the United States require the applicant to complete a road test. However, if you already have a driver's license from a foreign country, several states will waive the DMV road test. Start your preparation by reading the DMV Driving Test Study Guide now to pass the test with a high score!
3. What are the required documents for the DMV Driver License Test?
As previously stated, driver's licenses are granted by the state in which you reside rather than the federal government. Varying states will have different requirements for qualifying papers, as will your immigration status. If you are a visiting student, for example, you will most likely be required to provide your student visa, passport, evidence of domicile, and, in certain states, a social security card. Green Card holders and those with fiancée visas, for example, would have different requirements. However, there are still commonly required documents that every state needs for the DMV Driver License Test:
Proof of identification: Birth certificate or U.S Passport
Two proofs of residential address: You can provide your bill with your address or school transcript from the current school year that lists your address
Proof of social security number: Social Security Card
Moreover, if you are under 18 years old, you may need additional documents including:
Parental Consent Form: to prove your permission to the driver
Parent Proctoring Form: For those who took the Knowledge exam online
Certification of Minor Driving Experience Form: at least 50 hours of driving experience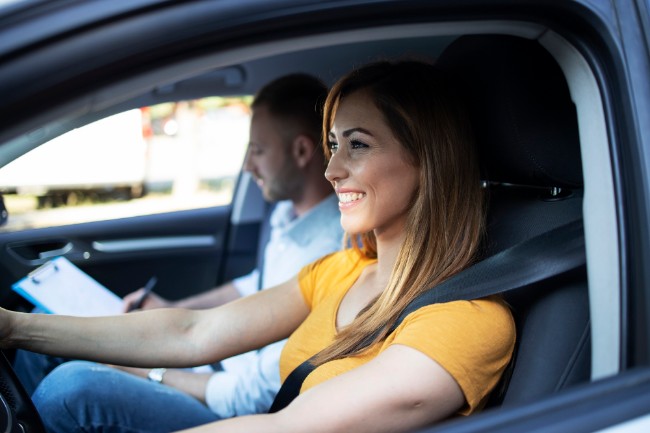 4. Tips to pass your DMV Driver's License Test?
4.1. Read the DMV handbook
Go to your local DMV and pick up a free copy of the driving handbook! Read everything and make sure you understand everything. We recommend that you read at least three pages every night so that you can finish them without becoming overly stressed. At the conclusion of the manual, you'll discover example questions and answers that will almost certainly appear on the DMV driver license exam.
4.2. Set a study schedule
Make it a habit to study for the DMV driver license for at least an hour every day for your written test. Reading your resources will help you retain more knowledge than not studying at all. Do not rely on your stock knowledge; it will not help you pass the DMV written exam. Concentrate on numbers such as speed restrictions in different places or road signs that you frequently encounter.
4.3. Read the question carefully
It is critical to properly read each question. There are certain questions in the DMV driver license that involves "NOT", "unless", or "unless", which entirely alter the meaning of the question, so keep an eye out for them.
4.4. Get enough sleep
Being well-rested and full before your DMV driver license test improves your capacity to retain information and sustain focus, so take this carefully. Staying up late the night before your exam to study further may not be a smart idea.
4.5. Take the online DMV Practice test
Repeat the practice exam several times. You can find several websites that allow you to practice freely. With our DMV Practice Test, more than 3,000 practice questions can assist you to score high. In addition, the practice test questions are identical to the questions on the actual written exam. As a result, it is critical that you retain these questions by going over them again and again.
5. What are the FAQs of the DMV Test?
5.1. Can I acquire a DMV driver license in the United States while waiting for my green card?
People with pending green card status can usually obtain a driver's license in the United States. You'll need to provide documentation of pending status, your passport, and proof of state residency. Keep in mind that most states will not grant licenses if your resident status documents have expired.
5.2. Can I obtain a DMV driver license in the United States without a Social Security number?
Many states need you to have a Social Security Number before you can receive your driver's license. Individual Tax Identification Numbers are accepted as a replacement in some states. Check with the DMV in your state.
5.3. How long can you drive in the United States while holding a foreign license?
Most states allow you to drive on a foreign license for up to three months as long as you have your passport with you. Depending on the rental provider, you may require an international license if you wish to borrow a car. International licenses are normally valid for one year in the United States.
5.4. Can I swap my international driver's license for a US driver license? Or am I required to take the test?
This is determined by the state in which you reside and if your native country grants driver's license reciprocity for the state. In other circumstances, all you'll need to do is exchange your foreign license and show the required identity and residence documentation. In some situations, you will be needed to take a written and/or driving test.
5.5. Do the DMV test includes the distracted driving part?
Yes. There will be questions on your DMV written test. Besides, the examiner will always watch you in order to assess whether you are focused on your driving task or not.
>> Read more: 5 Superior Tips to Avoid DMV Distracted Driving
In conclusion, the DMV Driver License Test is a must for every citizen who wishes to operate their car in the US. Hence, we hope that after reading this article, you find it helpful for your upcoming test. Good luck with your exam and achieving the DMV Driver License. Don't forget to take some DMV Practice Test to score high!